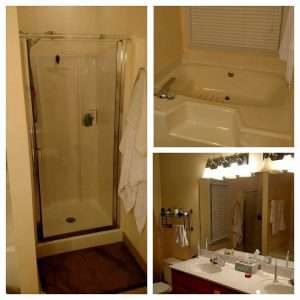 13 Jul

Remodeling a Master Bath

Lindsay McCall was ready to replace the super tiny shower in the master bathroom of her home that was originally built in 1995. She wanted a larger shower space and was inspired to update with a classic white and gray color palette; beyond this, she needed help with design and construction. Upon turning to Walker DesignBuild for their expertise in renovation projects, a plan was developed. Lindsay was introduced to tile and bath vendors who advised her in making key selections that would allow her vision to come to life. The process was smooth and Lindsay's family is now enjoying a beautiful and functional master bath design that has the timeless appeal she desired. Favorite new features include a gorgeous and substantially larger shower with an adjustable shower head, a sleek shower door that swings both in and out, convenient pull out drawers in the vanity cabinets, and an expanded closet that was a design bonus.

Ready to renovate, modify, or add to your current home? Walker DesignBuild takes great pride in remodeling projects. Contact us at 919-234-4284 to learn more.